The Basic Ayurveda training course offers the deep knowledge of understanding and convincing the advantages of cleansing and purifying the human body system, while offering a rejuvenated state of body and mind acting on the deeper layers of immune system.
Ayurveda course offers a brief introduction into Ayurveda, its philosophy and history, its legacy in controlling various physical ailments and its effects on the human body system while offering a disease-free life. The course introduces the human physiology, internal systems and treatment through different plants and their medicinal properties.  Training also offers practical demonstration of Ayurvedic rituals, kriyas and panchakarma.The course focuses on Basic Principles of Ayurveda including Swasthavritta (Hygiene and positive Health), The Fundamentals of Materia Medica and Pharmaceutics (Dravyguna, Rasa-Shastra, Bhaishajya Kalpana), The Fundamentals of Diagnosis and Pathogenesis (Nidan), The Fundamentals of Treatment (Chikitsa) and Panchkarma (Internal Purification) – demonstration and practicals of varies massage therapies,   Rasayana (Geriatrics and Rejuvenation Therapy), Fundamentals of Surgery (Shalya) including Ksharasutra (Alkaline thread cauterisation), Agnikarma (cautersiation), Jalakavacharana (Leech Application) etc.Practical demonstration of varies techniques of treatment and Preparation of Herbal Medicines.
This course is also useful for physicians interested in alternative medicine systems, non – medical practitioners, dieticians, dietary assistants, physiotherapists and Yoga teachers who are interested in widening their professional and personal competence.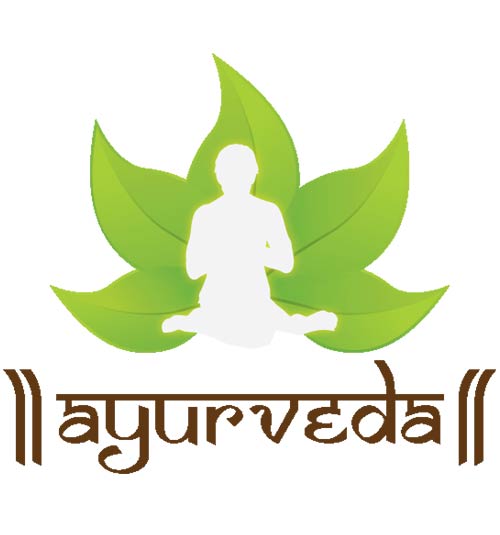 pregnancy yoga course (Prenatal-Postnatal)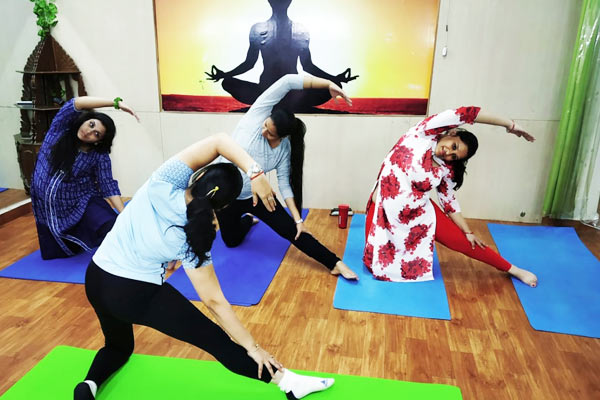 The Pregnancy Yoga teacher training course is for yoga teachers who want to specialize in pre and post natal yoga. Pregnancy brings along the experience with a fair share of mood swings; courtesy of hormonal changes where yoga practice has shown a lot of  for pregnant women both on physical and emotional front.
This Yoga course assists the trainer to help the new mom-to-be to strengthen her various systems in her body- where every organ and system has to work hard to nurture the baby and also to keep the mother strong and fit. This exclusively crafted Yoga course also assists the trainer to meditate to bring positivity to the pregnant woman so that she can easily handle stress, anxiety and any other negative emotions.Yoga teaching practice includes various trainings of yoga poses to strengthen various parts of the body such as the back, pelvic floor and the core as well as breathing which is very helpful to control the mental stress and during labour.
Hands on experience of Meditation and relaxation practices are important part of the course to keep the mind positive and peaceful as well as yogic philosophy for a positive attitude and yogic lifestyle for balance.
This course is focused primarily on teaching the students how to teach an ancient, universal technique of meditation, from India, but the training also includes many aspects of meditation, such as how to sit comfortably for meditation, how to guide through a variety of pranayama techniques, before meditation, how to lead affirmations and visualizations to aid meditation, and a variety of other related aspects, that can be helpful to the teaching of meditation.
The course imbibes detailed knowledge of how to teach basic meditation skills, The essential connection of meditation and energy, Concentration techniques for quieting the mind, how to teach breathing exercises, visualizations, walking meditations, Simple yoga stretches to prepare for meditation, how to sit comfortably for meditation, Opening the heart and developing devotion, The scientific effects of meditation on the brain and nervous system, Meditation and prayer, Meditation and intuition and counseling suggestions. The course is very helpful in reaping beneficial habits and feelings, such as a positive mood and outlook, self-discipline, healthy sleep patterns and even increased pain tolerance.
The overall take away of the course is a greater sense of awareness, wisdom, introspection, and a deeper sense of relaxation through the discipline of concentrating on a single object, thought, sound, movement, or on attention itself.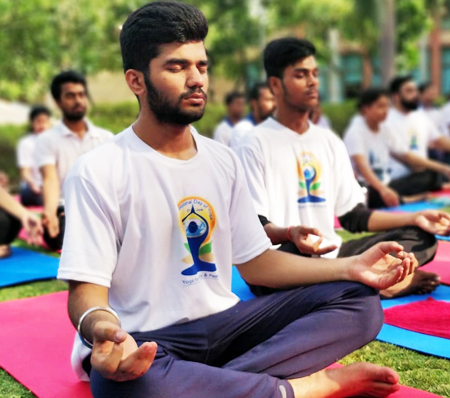 Specific Ailment treatment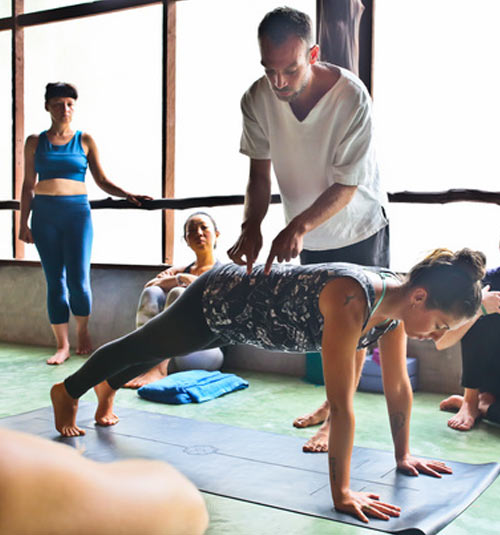 A very intensive course which provides training to heal various ailments with the best combination of natural way of healing.
Ailments like Piles which are caused to due intake of incompatible dietary foods, suppression of urges, injury to anal region, straining in the rectal region, defect by birth etc. these factors disrupt the Agni which vitiates Vata, Pitta and Kapha; which after localising in rectal region causes disturbance in properties of Raktha (blood), Mamsa (muscle) and Medas (Fat) elements which results in formation of growths in anal region. The management lies in removing the impurities (shodhanam –cleansing, only for those who are fit for "cleansing") from the system, samananam and bringing about vatanulomana by using medicines and diet as per the condition.
Other ailments like Prameha Chikitsa – Diabetes Management,  Annavaha srotho dushty – Gastro intestinal disorders, Hrudroga – Cardiovascular disorders, Kamila and Yakruth vikara – Liver disorders, Mootravaha Srotho dushty – Urological Disorders, Swasanavaha srotho dushty – Respiratory Diseases, Vata Vyadhi – Neurological disorders, Sandigata Vata roga & Vata raktha – Muskulo Skeletal and Joint Disorders, Anthasrava granthi roga – Hormonal and Metabolic disorders,  Seethapitta, Udwartha & Koda – Allergic Disorders, Sthreeroga – Gynec disorders, Vandyata chikitsa- Infertility, PALANA – Cancer Care and management, Punarnnava – Mental Health and Post de-addiction Rejuvenation Geriatric Care – Healthy aging and Twak Rogas – Skin disorders are tackled with various forms of yoga, Sujok, Ayurveda, Diet management and Councelling.
The course focuses on complete understanding for teaching of Surya Namaskar. Surya Namaskar provides all the  of a busy life. The course assists in teaching how to strengthen the entire body, stimulate the nervous system including the brain, lower plexus, spinal cord and aids in preventing memory loss, builds focus and concentration thereby improvement in the functioning of the brain.
The training teaches how to deal with the corporate challenge of shortage of time and space constraints. The main emphasis in the training to teach yoga while sitting at their workstations and yoga done by takings quick short yoga breaks. Teaching meditation and Pranayam for quick healing and bringing relief is an integral part of this training course. Stress which is a major problem these days — a hectic, stressful job, a chaotic home life, bad habits of unhealthy eating, drinking and smoking deteriorates the quality of life drastically.
This is where corporate yoga training emphasize on to get life to a more manageable level.More contagious than a cough or sneeze, laughter relaxes the whole body. It triggers the release of endorphins, promoting an overall sense of well-being. When combined with yogic breathing, laughter truly becomes the best medicine, providing extensive health  for people of all body types. Teaching laughing therapy is also a crucial part of this course.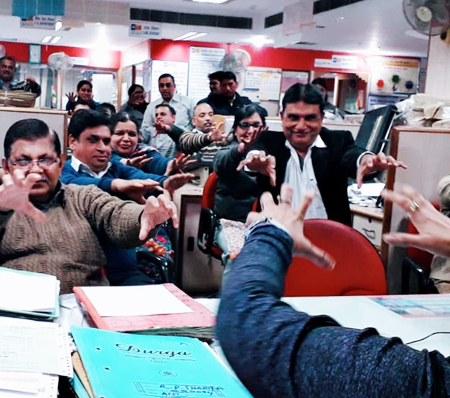 60 hrs Advance Yoga Training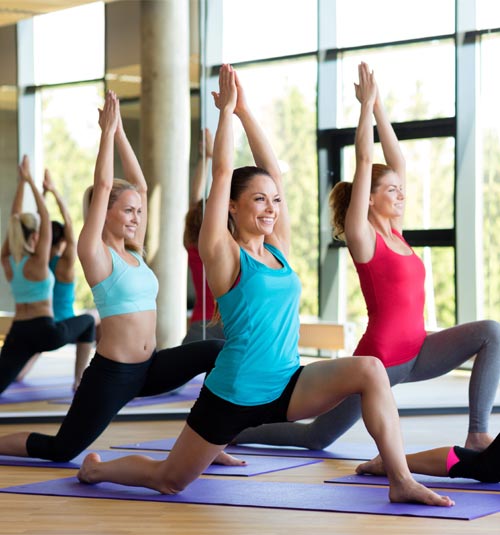 The program is designed taking to consideration the  advance level of yogasana specially crafted with asana related to anatomy, uses of props and communication skills. This 60hrs program is completed in 30 days.
The course explicitly prepare for following asanas fetching excusive benefits of them:


Shirshasana and Padam Shirshasana: This asana helps in stimulating the functioning of pineal, hypothalamus and pituitary glands. This helps in better functioning and coordination of all the endocrine glands
MAYURASANA AND Padam Mayurasana: This asana helps in Peacock Pose removes toxins and detoxifies your body and increases your focusing power of the mind.
Yog Nidrasana: Yoganidrasana relives in stress, fatigue & relaxes your mind.
Setu Badh Sarbangasana: This asana improves circulation of blood, helps to prevent arterial blockages or cardiac arrest by resting the heart muscles and increasing blood circulation to the arteries
Titibhasana: This asana Stretches the inner groins and back torso
Hanuman Asana: This asana Stretches the thighs, hamstrings, groins and stimulates the abdominal organs
Purn Dhanurasasan: This asana is Highly beneficial in getting rid of gastritis and epigastric pain
Other extensive asanas included in the training are: Bhumanasana, Natrajasana, Purn Bhujangasana, Asthvakrasana, Vakasasana, Rajkapotasana, Halasana, Karnapidasana, Shalabhasana, Ekpad Chakrasana and Purna Paschimottanasana
The major take away of this training program is the preparation for Zonal, State, National and International level Yoga championship.